The kitchen was the first room we unpacked when we moved in to our new house. Let's just say we like to eat, and our stomachs and wallet were getting tired of eating out. I think it was the breakfast sandwiches from Sonic on moving day that put us over the edge.
But before we could fill our new kitchen cabinets, we had a little prep work to do. We started by removing the shelf paper. In some areas there were three layers of paper. The bottom layer looked like it must have been put in in the 60s, when the house was built. After much peeling and scraping all the paper was removed and the cabinets were ready for new liner. We prefer the non-adhesive shelf liner because it's easy to remove if you want to clean it or switch it out. We use the solid-colored stuff because it's inexpensive and gets the job done, but there sure are some cute patterned papers available...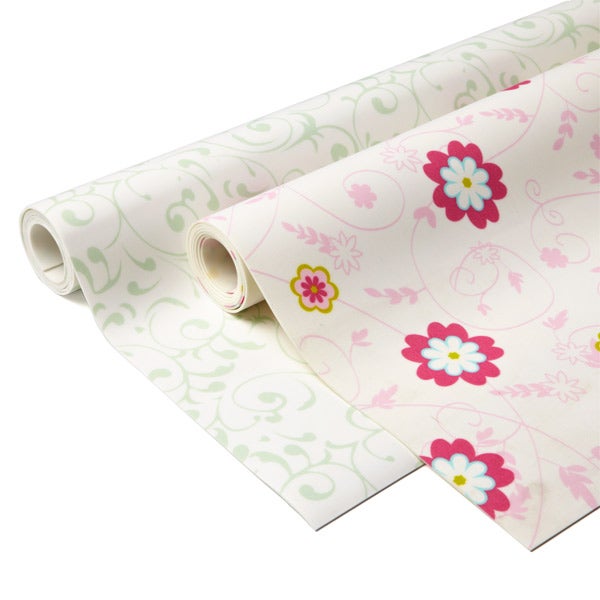 Fabric-topped for dresser drawers and closets (from Container Store)
Scented (also from Container Store)
Flower Burst
Eco Leaves
Windblown Whispers
So pretty.
Aside from being a little dated, the cabinetry in our kitchen is solid wood and in very good condition.
(We have plans to redo the kitchen soon, with new counter tops and a new look for the cabinet fronts...we'll share those plans with you soon.)
While we didn't splurge on shelf paper, we did put up the cash for something a little more practical- cabinet organizers.
Do you see that little bit of green poking out from the frying pans in the photo above? Those are "pot protectors" that I sewed to keep the pots from getting scratched when they're stacked.
I can't stand having to pull everything out of the cabinet to get to the one thing I need in the back, and that's why I love these. Such an easy solution to such a common problem.
Let me switch gears for just a second and say that our MO for this house remodel is a bit different than the last. Since we're only planning to stay in this house for 4 to 6 years, while Zach is in school, we're choosing materials and finishes that will give us the most bang for our buck, especially when it comes to the resale value of the house. Of course we want to enjoy the house while we're in it, but at the same time, all our decisions have been driven by the question, "What's the cheapest, most practical option for us?" If we're going to put it in the house, it must be affordable and relatively durable.
So when pricing cabinet organizers, we we're excited to find
this IKEA option
starting at $16.
RATIONELL wire basket
Measurements in hand, we went to IKEA to purchase them. It's wasn't until we saw them on display that Zach pointed out one fatal flaw, they were side mount.We have a galley style kitchen and all the cabinets open up to one another, with no cabinet sides in between. Even though the IKEA organizers didn't work for us, we think they're still a good option for those with cabinets that can accommodate them.
The next stop we made was Container Store, to check out their
Elfa easy glider
.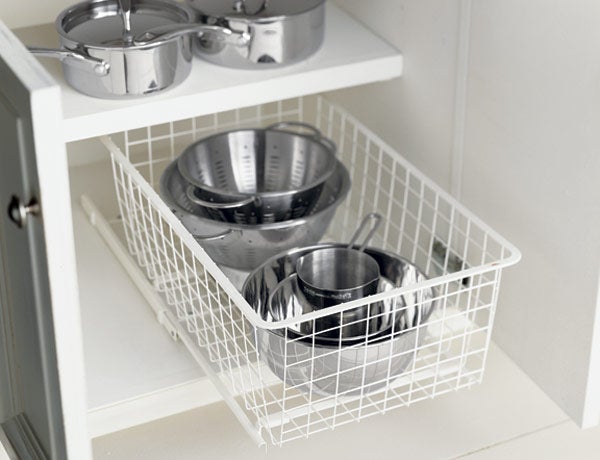 It mounted to the bottom of the cabinet, so that was one problem solved, and starting at $25, the price was still reasonable. Unfortunately we needed 12" and 15" widths, and all that was available were 9" and 13" widths. We could have made them work but would have lost several inches of storage space in each cabinet. We were about ready to call it a day when we came across these
chrome roll out drawers
.
They were perfect in every way, bottom-mount, and just the right widths, but they came with a bit of sticker shock. We compromised and ended up going home with 4 drawers, instead of the 7 we had originally planned to buy. We were also able to use Zach's educator discount to get 15% off. And although we bent the "affordable" part of our "affordable and durable" rule a bit, we figure that we can always take these with us when we move.